Will Volkswagen Have a Self-Driving Ambulance Ready by 2025?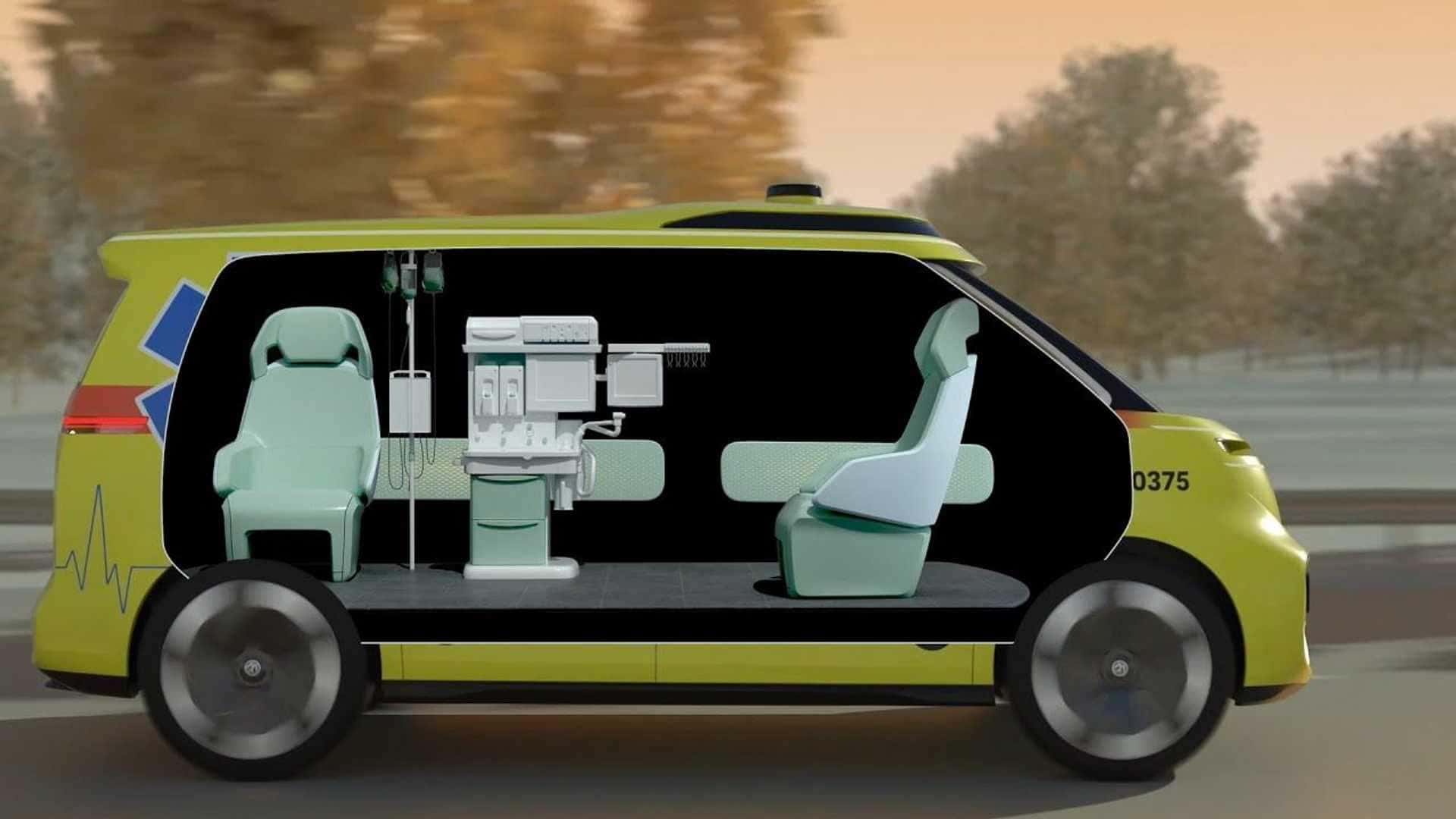 During the 2021 ITS World Congress in Hamburg, Germany, Volkswagen's Commercial Vehicles Division displayed an autonomous ambulance prototype based on the ID.Buzz. This driverless medical response vehicle has its seats pointing back toward specialized medical equipment. There is limited information available on the concept vehicle, but Volkswagen did release a video that gives some insight into the vehicle's interior and exterior design. The company also plans on having its ambulance concept to be operable by 2025 if everything goes according to plan. Its ID.Buzz also has many other applications the company will disclose in more detail at a later date. Volkswagen intends on converting its electric bus concept into a mass-production vehicle next year, with plans on putting it on sale in the United States toward the end of 2023.
Getting Ready for the Future
Volkswagen believes that traffic in cities is going to be regulated. Ride-pooling is a transportation service that will be in demand later on in major metropolitan areas in Germany in conjunction with regular modes of public transportation. At the moment, vehicle testing is taking place with Argo AI in Munich, Germany. However, Volkswagen admits that the ride-sharing services currently running in Hamburg are too small and too expensive to reach broad segments of the population for daily mobility. But this is a problem the company is intent on solving.  
Recyclable Materials in Vehicle Design
Volkswagen is one of the few automakers in the industry trying to use recyclable materials to manufacture its vehicles. For example, the interior of the ID.Buzz van is made of sustainable and recyclable materials. Some of the materials include industrial waste, used carpets, and fishing nets, to name a few. They are processed beforehand and then turned into yarns, fabric, and floor mats.  
Other Vehicle Applications
Besides the driverless ambulance concept, Volkswagen also displayed a delivery van and taxi version of the ID.Buzz, including a "mobile office" on wheels. From these various concept vehicles, it is evident that Volkswagen wants to make the ID.Buzz is a multi-purpose electric van that can be used for many different applications. Whether it's transporting people or equipment, its versatility will make it sell well among consumers. While there is no exact date when Volkswagen plans on releasing a production-ready "autonomous ambulance," there is potential pushback from legislators and public safety officials because a driver-less ambulance is a huge deal, especially when no one is at the wheel. 
For more compelling news from Volkswagen, please stay connected with us at Sunrise Volkswagen of Fort Pierce! Your vehicle hub for everything, Volkswagen! Are you looking for your next vehicle? You can give us a call or visit our dealership and explore our fantastic inventory of sedans and SUVs at everyday low prices! Begin your vehicle shopping journey with us today and experience unbeatable savings on our most popular models. If you are interested in a specific vehicle, you can let us know by filling out our contact form. We'll provide you with more information on availability.
Image Source: Volkswagen