The 2022 Volkswagen Golf GTI makes Wards 10 Best Interior List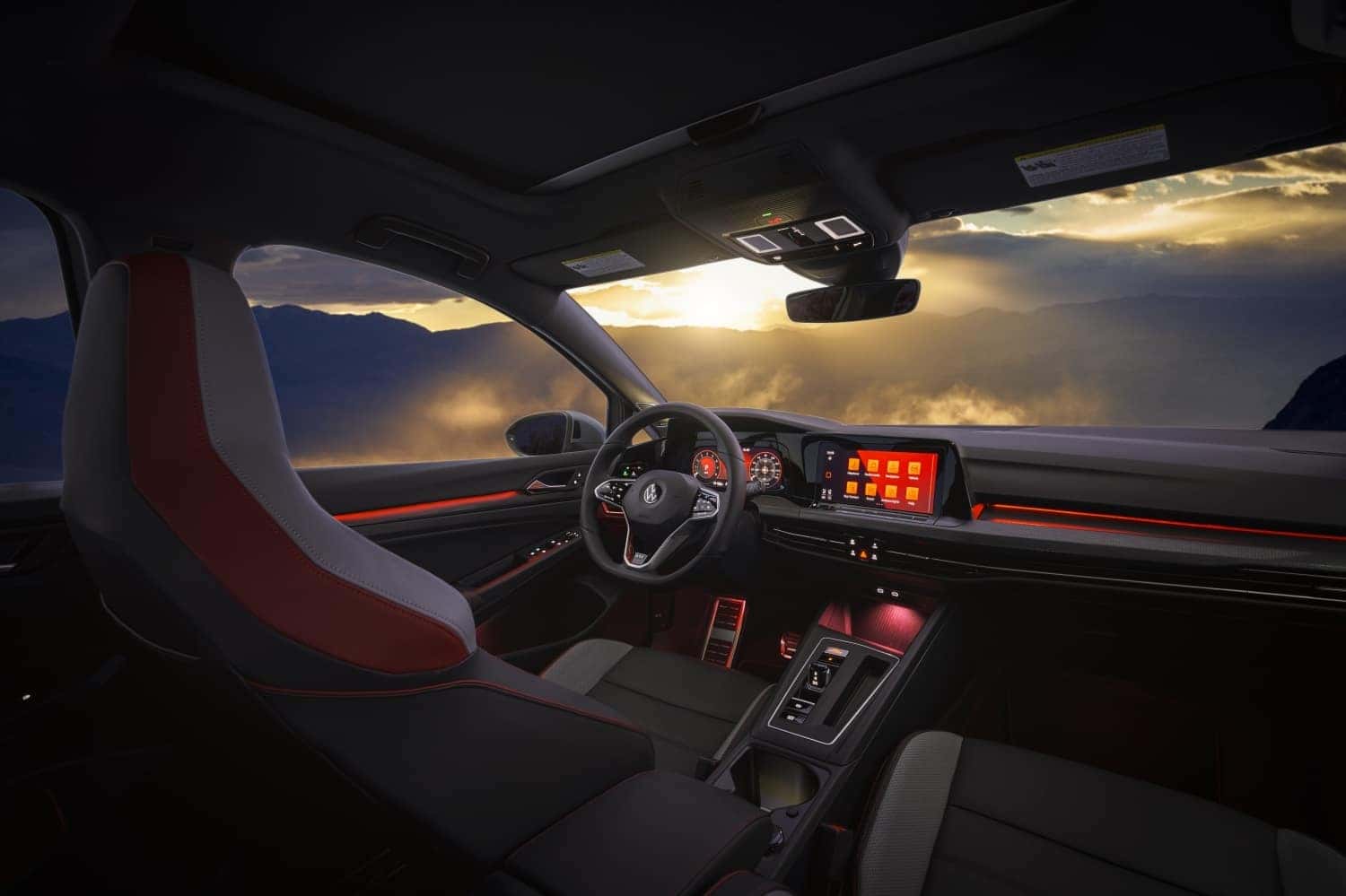 "Volkswagen's Golf GTI lands on our 2022 Wards 10 Best Interiors & UX list by fusing core hot-hatch styling, classic GTI identity and high-tech amenities and design cues into what is a relatively affordable package. The GTI's iconic plaid seats, plus light-up door handles, multicolor ambient lighting and Digital Cockpit Pro make this car a winner." -WardsAuto Editor and 10 Best Judge, David Zoia
Ward's annual "10 Best Interiors & UX competition" recently announced that the 2022 Volkswagen Golf GTI comprised the top 10 list. The 10 Best Interiors list analyzes new and refined vehicle interiors plus user-experience technology. Scoring is broken down into various benchmarks such as design and aesthetics, comfort, materials, connectivity and infotainment, display and controls, and advanced driver systems and values. 
This year (2022), Ward evaluated ten vehicles, and nine cars came close to the Volkswagen Golf GTI's appeal. Those other nine vehicles that make up Ward 10 Best Interiors list include the BMW iX, Ford Maverick, Genesis G70, Jeep Grand Wagoneer, Kia EV6, Lucid Air, Mercedes-Benz EQS, Rivian R1T, and the Toyota Tundra. The WardsAuto ceremony will commence at the Suburban Collection Showplace in Novi, Michigan, during the WardsAuto Interiors & UX Conference (June 8-9, 2022). 
Back to slay the redesigned segment, the VW Golf GTI premieres a galore of interior customization with premium materials, new features, and a completely new electronic architecture. As Golf GTI drivers look to the right, they will find an interior mirror sporting red decorative seams and edging with succulent honeycomb accents.    
The 2022 Golf GTI also sports newly heated and bolstered front sports seats. The new sports seats are an homage to the first Golf GTI because of its unique ergonomics, beautifully blended head restraints, red stitching, and standard grey and black tartan "Scalepaper" fabric located at the seat and backrest area. 
The Volkswagen Golf GTI hosts an array of groundbreaking technology. For example, one area the iconic hatchback's technology astounds every enthusiast is the new digitally-networked world of displays and controls. The display and controls enable Golf GTI drivers to customize their desired look and technology with minimal effort and in greater detail. Volkswagen's Digital Cockpit Pro system comes standard on every GTI Model. Drivers have access to an ample and fully configurable 10.25-inch touchscreen with three views and 21 different viewing options. 
 "We're thrilled with this honor from WardsAuto. The previous Golf GTI was widely regarded as one of the best hot hatches you could buy, but the Mark 8 ups the ante with a new electronic architecture enabling a more connected experience top to bottom." – Senior Vice President, Product Marketing and Strategy, Volkswagen of America, Hein Schafer 
Your 2022 Volkswagen Golf GTI Awaits You at Sunrise Volkswagen
Remember when you bought your first car all by yourself. Your new car's off-gassing (fresh car smell) smelt better than it sounds. So you gripped the wheel ten and two nervously drove on the open road to freedom. Times have changed tremendously since purchasing your new car, and no one will work harder than Sunrise Volkswagen to make your purchasing needs better than the first time.
At Sunrise Volkswagen, we have many new and pre-owned vehicles that will make your vehicle selection the only difficulty in your buying process.  
Additionally, our finance managers want to ensure that the car buying process is easier than you could ever imagine. So feel free to apply through our easy-to-use auto financing.  
If you're feeling a little reluctant to surrender that prized possession, don't we understand. Our service experts are happy to assist with your next service or auto repair.  
Volkswagen is an ingenious pioneer through this zero-emission transition, and Sunrise Volkswagen vigorously aligns you with the best. It doesn't matter if you want a better understanding of the 2022 Volkswagen Golf GTI, your financial standing, or a routine maintenance check; Sunrise Volkswagen aspires to fulfill all your car buying desires.