Volkswagen Teases the ID Buzz One More Time for Good Measure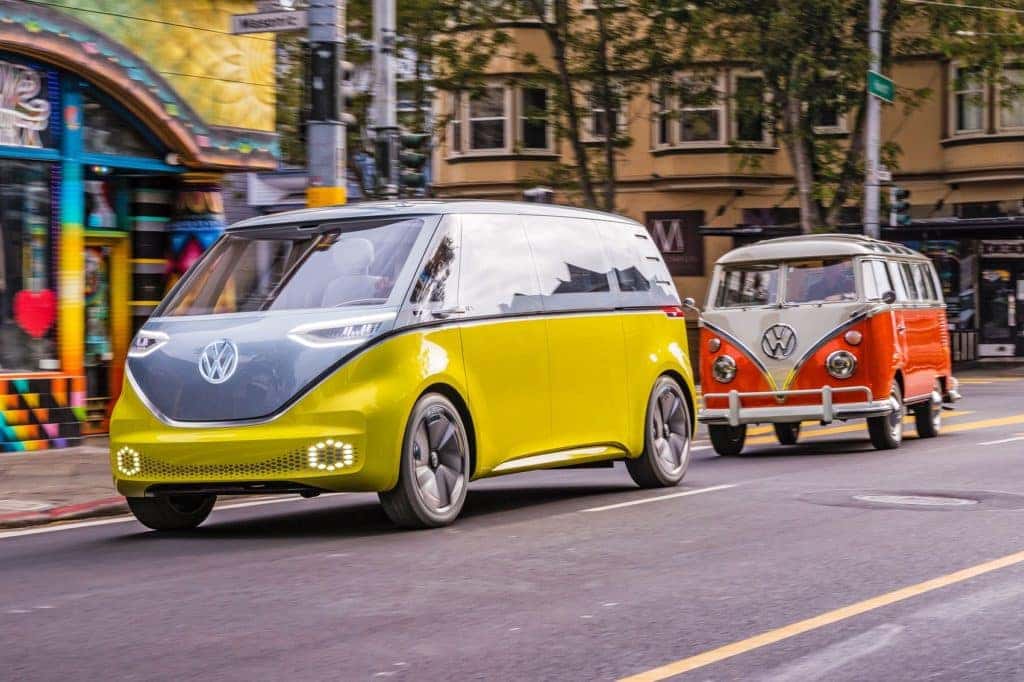 Volkswagen recently teased its highly-anticipated ID Buzz model, expected to debut sometime in 2022. Inspired by the iconic VW Bus, the ID Buzz is rumored to offer buyers a functional van that comes with all the modern bells and whistles – including electric power and plenty of tech – all while retaining its retro charm thanks to a retro-inspired design. The ID Buzz will be built on Volkswagen's most recent MEB architecture, the very same that currently underpins the very successful ID.4 model. Here's where the ID Buzz differs from the smaller electric offerings from Volkswagen – the ID Buzz will be powered by the largest battery pack that's ever been paired with this MEB platform. 
Automotive experts deduce that the ID Buzz should have a range of at least 373 miles (on a single charge) thanks to its 111 kWh. Don't expect this van to ride slow either, as it's believed the electrification of this model will bring forth at least 369 horsepower, complete with all-wheel drive. Even though its weight is likely to influence its abilities, the ID Buzz is expected to have a zero to sixty time well below five seconds – rather impressive for a van! 
Volkswagen will also offer the Buzz Cargo, making it the perfect fit for prospective buyers who are looking to electrify their vans, cutting down on the cost of ownership along the way. The Volkswagen Buzz Cargo is rumored to have seats at the front, with the rest of the rear section devoted to cargo. This cargo variation will be powered by a smaller 48 kWh battery pack and should pack about 150 horsepower. The Buzz Cargo makes sense for fleet shoppers as it'll be the most affordable of the bunch all while getting the job done. 
Additionally, the ID Buzz will also feature plenty of advanced tech that Volkswagen has already revealed to the public. The ID Buzz is destined to be a practical alternative to those who tend to opt for crossovers instead. A van-type vehicle can't be beaten when it comes to comfort, transporting people, along with other numerous amenities that certainly come in handy. The ID Buzz is more practical than a crossover, with plenty of experience under its belt thanks to its traditional predecessor. 
Volkswagen is slated to reveal the ID Buzz in Europe sometime during 2022, but the highly-anticipated van won't make its way stateside until 2024 at a minimum. It should also be noted that all versions released in Europe will not be offered in North America.
Stay tuned on Sunrise Volkswagen social media for further news about the upcoming ID Buzz and ID.California models. Build and reserve your very own Volkswagen ID.4 at Sunrise Volkswagen of Fort Pierce today! Follow Volkswagen of Fort Pierce on social media to stay up to date with the latest VW news and offers.
Photo Source/Copyright: Volkswagen