Volkswagen Takes on the Future with Inclusive Mobility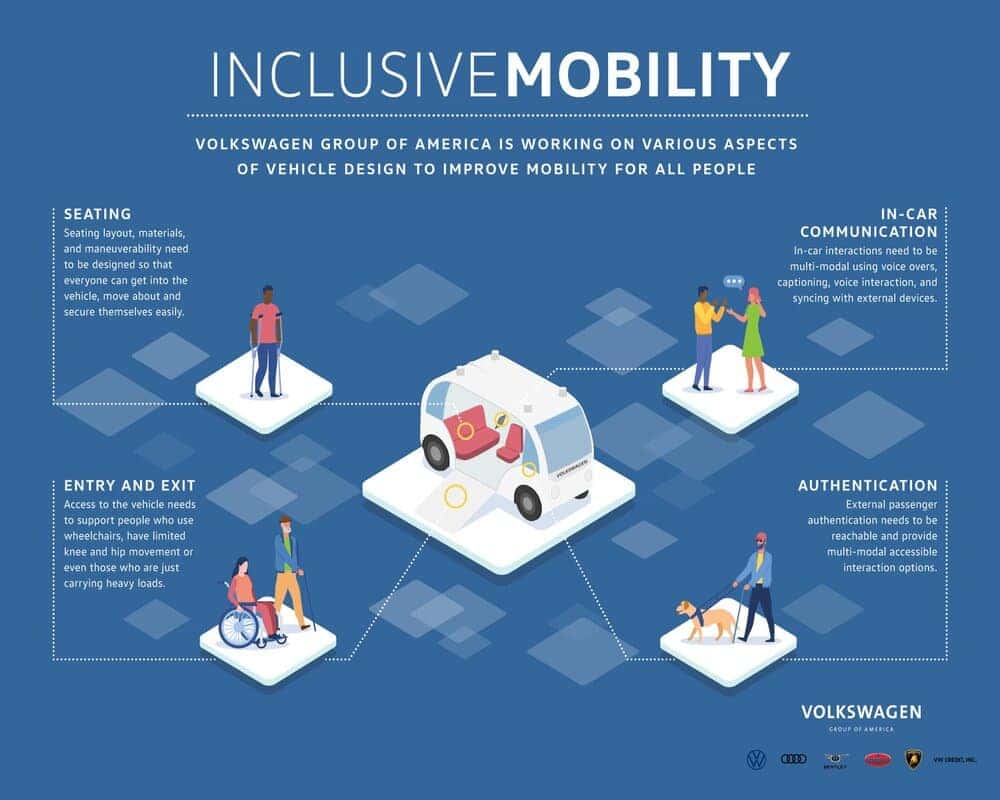 Watching shows such as Ryan O'Connell's Special or RJ Mitte from Breaking Bad, it's astounding to see people with disabilities striving to find their independence. But it's also challenging to watch Ryan or Walter storm away from the people that hurt them with nowhere to escape. But, with the help of Volkswagen, autonomy may be closer than anyone in the disabled community ever imagined.     
In 2017, Volkswagen Group of America formed the inclusive mobility initiative. The initiative consists of designers, researchers, engineers, and computer scientists working together to forge mobility for an essential group of people.
"Our mission is to help improve transportation and the quality of life for everyone, especially people with disabilities. We work on specific features of hardware and software design to ensure that Volkswagen's future vehicles and services can be used by as many people as possible." -Senior Director Intelligent Cockpit and Body at Volkswagen Group of America 
Progression seems challenging, but commitment is the engine that keeps the Volkswagen team on its track. The inclusive mobility team started with an exploration into design resolutions that enhance mobility, vision, hearing, and cognition disabilities. The overall mission requires generating mobility for people who currently lack mobility. 
Like any mission, the road to success is achievable but not without hard work and persistence. Volkswagen's first hurdle consists of securing a wheelchair to a vehicle without assistance and even ensuring the vehicle's software-based interfaces are accessible to every kind of user.  
UX Research and Design Manager Chandrika Jayant mentioned autonomous vehicles and mobility services would increase the quality of living for millions of deserving Americans. 
"Technology is evolving rapidly, and there's an unprecedented opportunity to redesign how we get around. In our work, we focus on those groups of people who have been traditionally underserved in mobility spaces." -UX Research and Design Manager at Volkswagen of America, Chandrika Jayant
With a vision so profound, collaborations are essential. So far, the Santa Clara-based team has collaborated with Argo AI for autonomous vehicles and the technology to drive them. Associations also stem from Volkswagen Group's software brand CARIAD. CARIAD provides information and feedback to user interfaces and software functions.  
Volkswagen has merely scratched the surface for the disabled community's mobility. 
"We need to understand the specific needs, we need to be involved in continuous dialogue with the people who are underserved to hear from them their experiences, and not simply imagine what those experiences might be." – Jayant 
The reason the mission remains prevalent, disabled groups. The community is essential to Volkswagen Group of America's success with their insight and feedback detriment to every stage of designing technologies and mobility services for vehicles. The team also collaborated with the WeWillRide coalition and the American Association for People with Disabilities. The partnerships provided data and insights into the obstacles of accessing a vehicle for individuals facing motor and vehicle impairments. 
"Ultimately, we are not aiming towards one ultimate product somewhere in the far future. Continuity is key. What we do and what we learn in our continuous work with advocacy groups could also have positive effects for the next Volkswagen vehicle generations soon to come." – Lorenz 
There are zero standards when it comes to latching a wheelchair to a vehicle. Volkwagen's done a phenomenal job of transitioning to the future, but it's also up to wheelchair makers, insurance companies, the government, and users to rectify the dilemma.  Lorenz and Jayant ignited a fire that led the conversation to inclusive mobility. With communication and comprehension at the forefront, the Santa Clara team moves one step closer to greater freedom of movement for every user. 
Aren't you tired of shopping around and not finding the car of your dreams? Sunrise Volkswagen of Fort Pierce is new with the inventory to match. Whether you're in the market for a new or pre-owned Volkswagen, our service personnel will provide you with the hometown customer service you deserve. In addition, Volkswagen is known for its German high-tech engineering and its reasonable prices. So if you're facing some financial dilemmas, please feel free to take advantage of our finance center. Our staff is committed to your satisfaction.
We look forward to serving you!