Volkswagen Partners with Multiple Companies to Create Autonomous Vehicle Technology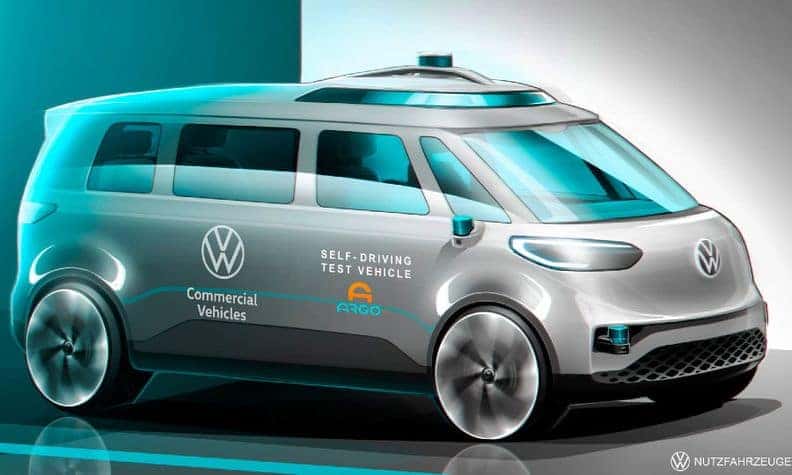 Volkswagen reaches out to several companies specializing in autonomous vehicle technology and software to help it create autonomous capability for its vehicles. The collaborative effort aims to help pave the path for the mass production of autonomous cars, especially the ID.Buzz Microbus EV that Volkswagen wants to put into production soon. Level 4 autonomy is a feature Volkswagen intends to include in its electrified Microbus, which means the vehicle can drive itself under certain conditions. Volkswagen is planning for the Microbus to be ready for the commercial transport of people and goods by 2025.       
VW's Multi-Group Collaboration
The main pool of companies includes Audi, Arm (a British Semiconductor company), and Cariad (Volkswagen's Automotive Software Division). They are the initial partners in creating the software and technology for autonomous driving. The goal of the collaboration is to develop a "safe system architecture" for self-driving vehicles and normalize the mass production of autonomous vehicles in the future. The group's approach includes designing subsystems that connect to sensors and actuators, including fault containment units to ensure safe operation.
Using Sensor Fusion Software
Sensor Fusion is a very popular concept in the world of information systems and autonomous cars, and Volkswagen is taking full advantage of its benefits. Sensor fusion brings together data from multiple sensors such as radars, lidars, and cameras to form a single model or image of the surrounding environment using software algorithms.
Other companies participating in the collaboration include: 
BASELABS (Sensor Fusion Software Specialist

CoreAVI (Software Developer)

Denso (Japanese Automotive Components Manufacturer)

Germany's Fraunhofer Institute for Experimental Software Engineering (IESE)

NXP (Dutch Semiconductor Maker)

The Swedish Royal Institute of Technology

TTTech Auto (Autonomous Driving Software Provider)
Volkswagen plans on using this network of companies and organizations as the foundational architecture of innovation and solutions for autonomous technology moving forward. The bulk of the work coming from this teamwork consists of developing recommendations, specifications and indicating best practices in technical reports offering guidance to the global automotive industry for the mass production of autonomous vehicles.   
The Future of Autonomous Driving
Designing truly autonomous vehicles is a lot more difficult than it seems, as it requires a lot of research, testing, funding, and real-world application. But for Volkswagen, this is the perfect opportunity to prove to other automakers like Tesla and the greater automotive community that it can also build self-driving cars. A recent news source indicates the team is planning to make a public announcement on September 29, 2021, at an event hosted by The Autonomous (an organization dedicated to developing autonomous vehicle technology).    
Receive all the latest news from Volkswagen by connecting with us at Sunrise Volkswagen of Fort Pierce! Are you looking to drive a new Volkswagen vehicle? Visit us or give us a call, and we can assist you in finding the ideal vehicle that best suits your style and driving needs. We have a wide selection of sedans and SUVs at everyday low prices! Start your search today and submit our contact form, and our friendly staff can answer any questions you may have about leasing or financing.
Image Source: Volkswagen