Volkswagen is Accepting Orders for the ID.5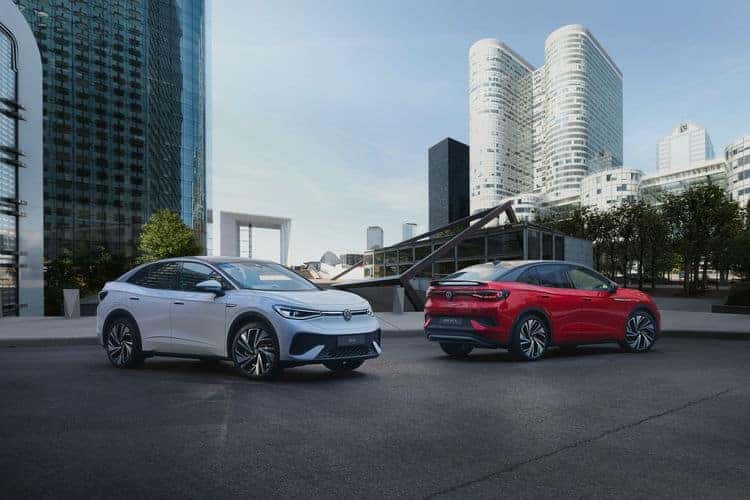 Volkswagen has announced that it is now accepting orders for its ID.5 EV. This can be done by visiting the official Volkswagen website. (Important note: Ordering is only available to consumers in Europe and China since the ID.5 is not available in the United States — at least not yet). It is uncertain when the ID.5 will join its little ID.4 brother here in the states, but we can be sure that it is a possibility for Volkswagen to offer it in more markets. The ID.5 is very similar to the ID.4 in terms of exterior shape and design, but it does have some notable differences. According to Volkswagen, the ID.5 has 12mm less headroom for rear-seat passengers than the ID.4 because of its coupe-like style and low-arched roofline.    
The Pro and Pro Performance Trims
The ID.5 is equipped with a single 77kWh battery but with the help of its motors, it offers admirable performance. For example, the ID.5 Pro trim has a single 128kW (172hp) motor that powers the rear wheels, and the ID.5 Pro Performance trim offers a 150kW (201hp) motor. For consumers that want the most out of their ID.5 EV, the GTX trim won't disappoint. It comes with 220kW dual motors (equivalent to 295hp) and can accelerate from 0-60mph in about 6.6 seconds. In terms of range, both the ID.5 Pro and Pro Performance can go for 323 miles before the battery drains completely while the GTX has a slightly lower 300-mile range. But what differentiates the GTX trim from the other two is its maximum charging power of up to 150kw, which means it is enough to add 60 miles of range in about six minutes at DC fast-charging stations or with an at-home charger with fast-charging capability.      
Connectivity and Over-the-Air Updates
Throughout the ID.5's time on the market, over-the-air updates will be implemented to ensure the vehicle software and infotainment features are always up-to-date. According to Klaus Zellmer (Volkswagen board of management member), the ID.5 provides customers with ID.Software 3.0 enabling improved charging capacity and voice control functions to ensure a quality driver's experience.
Release Date, Pricing & Driving Range
The official launch of the ID.5 will take place at the end of 2021 in Europe and China, according to Ralf Brandstatter, CEO of Volkswagen. Other information suggests that the ID.5 will have a starting base price of €46,515 in Germany but pricing is subject to change based on region, market, and optional equipment. For the U.S. market, it would be close to $52,554 and ¥335,142.11 for the Chinese market. Since the ID.5 is a fully electric vehicle, government tax credits may apply therefore reducing the price of the vehicle making it even more affordable for consumers on a budget.
Stay connected with us at Sunrise Volkswagen of Fort Pierce and learn about all the latest updates from Volkswagen! Even though the ID.5 is not available in the U.S. at least not at the moment, we are currently taking orders for the  2021 Volkswagen ID.4 via a $100 fully refundable reservation deposit! Get started today and experience the power of an all-electric SUV by giving us a call or visiting us in person. The sooner you place your order, the faster you can receive delivery of your SUV. For any questions in regard to order, payment options, or other general inquiries, message us online via our contact form and we will respond within the same day to assist you.
Image Source: Volkswagen