Volkswagen Gives Us a Sneak Peek of the Interior of the ID. 4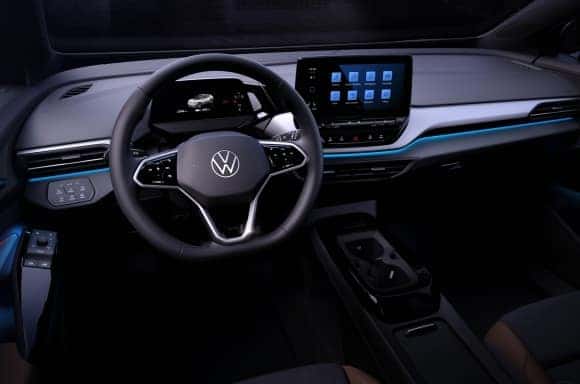 In the lead up to the world premiere of its latest state-of-the-art electric vehicle — the ID. 4 — Volkswagen gives fans a sneak peek of the all-new interior. This marks the German automaker's first fully-electric SUV destined for the North American market. It's expected to offer ample space, high-effect lighting, futuristic aesthetics, and a consummately modern design overall. Klaus Zyciora, the current Head of Volkswagen Group Design, was responsible for developing the vehicle during his previous tenure as Head of Volkswagen Brand Design. He sums up the interior of the multifaceted SUV with the following formula: "Freedom on the outside, free space on the inside. The ID. 4 brings a new sense of space to its category thanks to the new MEB platform, our modular electric drive matrix."
Even the door handles are special on the ID. 4, as they lie flush with the vehicle's body and only unlock electronically. Both driver and passengers alike can access the SUV via the large door openings and can also enjoy high seating positions. The rear bench seat also offers sufficient space for passengers, and when it comes to cargo storage the ID. 4 boasts 30.3 cubic feet of space when the rear seat is up. The interior of the ID. 4's cabin underlines the vast space, and just like the vehicle's exterior, it focuses only on what's essential with its flowing and lightweight design. Even the dash panel appears to float, disconnected from the central console. In fact, the center console was actually designed as an independent component.
In addition, there's also an available fixed panoramic roof that gives everyone an unrestricted view of the night sky. Once the sun goes down, the interior cabin lights can be adjusted to highlight the vehicle's accents– there are 30 different colors of ambient lighting to choose from. The ID. 4 will also offer an ID. Light feature: it's a light strip found beneath the windscreen that is useful for a host of situations and features intuitive lighting effects in various colors. For example, one of the ID. Light features include signals that the vehicle's drive system is active, and whether the vehicle has been locked or unlocked. Incoming phone calls, navigation system instructions, driver assist warning, and braking prompts are all signals accentuated by the ID. Light system.
The cabin of the ID. 4 is naturally calm thanks to its sophisticated color scheme consisting of Galaxy Black and Lunar Grey. However, the steering wheel, the housings of the display, control panels in the doors, and the steering column all come in either Piano Black or Electric White. Both colors are bright and add the perfect contrast in the cabin, giving it a futuristic edge throughout the interior and highlights its clear-cut design.
Follow Sunrise Volkswagen on social media to be among the first to know when the ID. 4 finally makes its official debut.
Photo Source/Copyright: Volkswagen