Volkswagen Extends Its Partnership With U.S. Soccer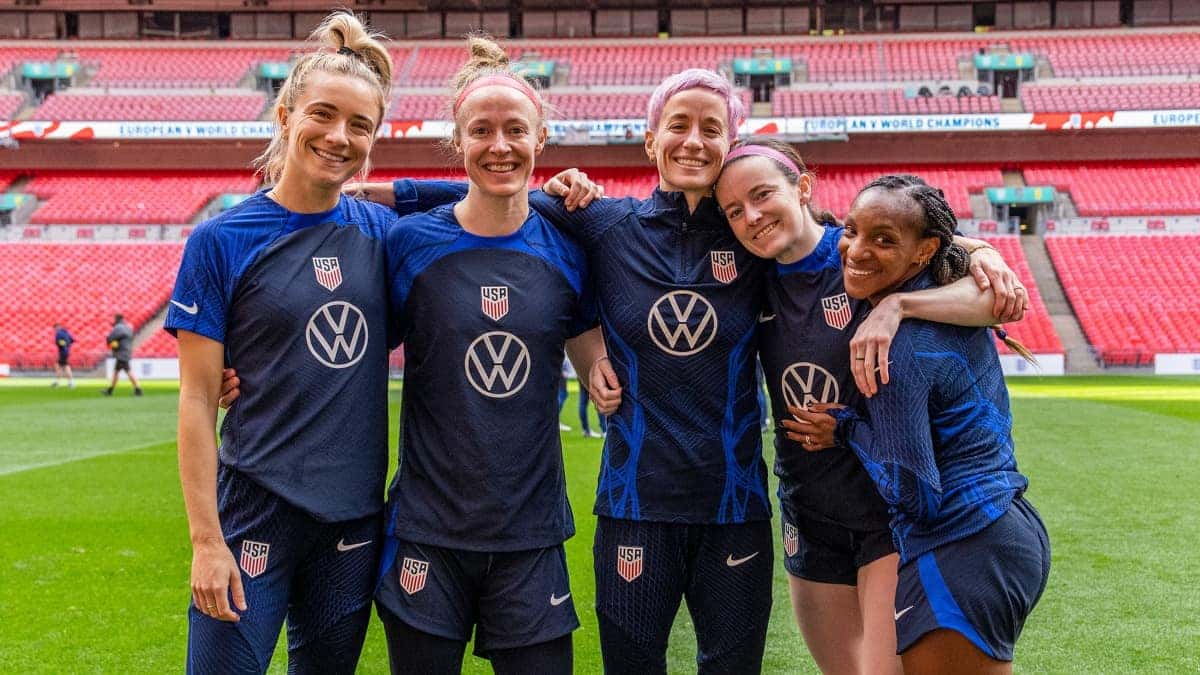 Volkswagen is proud to announce a multi-year partnership extension with the U.S. Soccer Federation. The extension maintains Volkswagen as the presenting partner of both Men's and Women's U.S. Soccer National Teams, Youth National Teams, and even Extended National Teams. Volkswagen and U.S. Soccer made the big announcement on ABC's "Good Morning America."
"We're incredibly proud to continue our strategic partnership with Volkswagen. VW has played an integral role in increasing accessibility to our sport and we look forward to continuing to work together as we drive forward to make soccer more fun, inclusive, and ultimately, the preeminent sport in our country," said U.S. Soccer Chief Commercial Officer David Wright.
Volkswagen's role is to continue to aid U.S. Soccer in its mission to expand its reach within the United State via player and coach development, visibility, participation initiatives–including nationwide fan engagement, and lifting up sustainability. Volkswagen branding can be found in in-stadium and training camp ad placements, as well as on the training and warmup tops of both the Men's and Women's National Teams. Social media and other adjacent digital efforts will also significantly feature Volkswagen.  
"We are thrilled to renew our partnership with U.S. Soccer. We look forward to continuing to help grow this great sport in the U.S. and all over the world. Just as Volkswagen is the People's Car, soccer is the People's Sport–both represent accessible fun for everyone," said Pablo Di Si, President and CEO, Volkswagen Group of America.
Sustainability
Sustainability plays an integral role in this partnership, thanks to Volkswagen's ever-expanding electric lineup, currently featuring the ID.4 and the upcoming ID.Buzz. Volkswagen and U.S. Soccer will work together on sustainability initiatives and encourage the transition to electric vehicles. Throughout any televised U.S. Soccer matches, Volkswagen will sponsor a special segment every time a U.S. goal is scored titled "Electric Goals of the Match," complete with social posts and in-match signage. On occasion, for specific matches, there'll be a mini electric ID.4 or ID. Buzz models delivering the game balls. 
Volkswagen ID.4
The Volkswagen ID.4 is the German automaker's big foray into the electric car market. Its day-to-day livability has left critics impressed, as orders for the exciting EV continue to climb. Not only do the accolades keep rolling in for the ID.4, the model was also named World Car of the Year 2021. 
For the current model year buyers can expect a more powerful 135-kilowatt onboard charger, adding even more range to the model's batteries. This is arguably one of the most important changes Volkswagen could make given that a big selling point of the ID.4 is its impressive all-electric range. Although Volkswagen has yet to publicly declare any MPGe or range numbers, experts believe the improved onboard charger should take ID.4 much farther than the 250-160 mole range that the previous ID.4 entry-level trim has to offer. 
While Volkswagen did raise the starting price, the difference between the introductory model and the 2022 ID.4 is only $765. Additionally, Volkswagen will also introduce over-the-air updates later this year (2022) including tweaks to its auto-hold function, along with a Plug and Charge system. According to Volkswagen this Plug and Charge system makes it easier to charge the vehicle at the brand's Electrify America charging stations.
Build and reserve your very own Volkswagen ID.4 at Sunrise Volkswagen of Fort Pierce today! Follow Volkswagen of Fort Pierce on social media to stay up to date with the latest VW news and offers.
Photo Source/Copyright: Volkswagen