Volkswagen and Amazon Did What?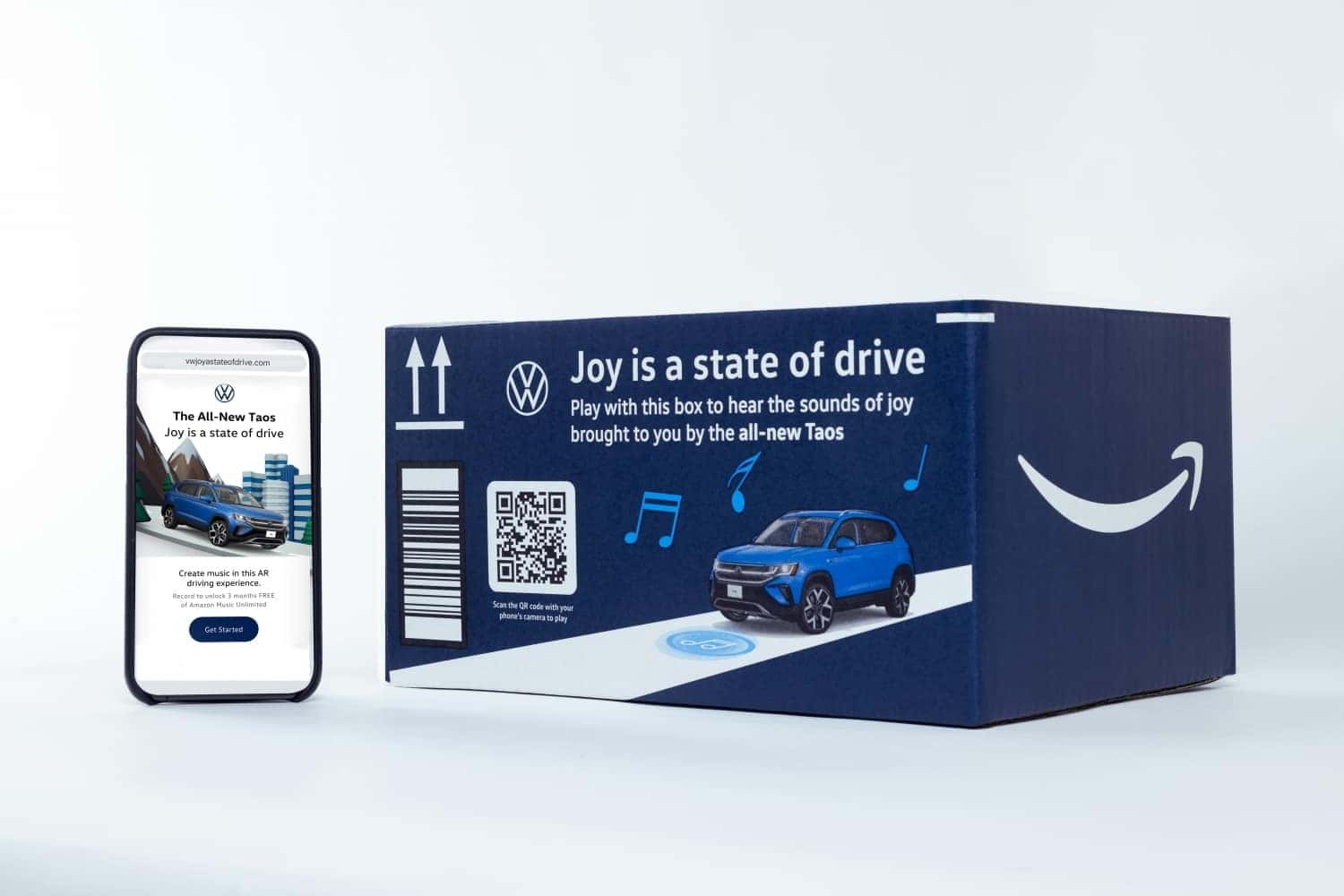 Someone at Volkswagen must be a member of Team No Sleep as Volkswagen recently revealed another new initiative, its new virtual driving experience. The announcement came earlier this week (November 29, 2021). 
Volkswagen of America announced its new web-based immersive reality technology (WebAR) experience through select Amazon packages. The Amazon boxes provide a sensory experience for the new 2022 Volkswagen Taos. As a result, online shoppers can experience the Taos SUV from the comfort of their homes. 
"Our challenge was to evoke joy, creating a connection to the campaign work, through a different medium. We were inspired by the origins of the music box and added the visual spectacle of WebAR plus interactive music for a truly sensory experience." -Vice President of Innovation & Technology at the community, Christopher Neff.  
There's a QR located on the Amazon box, and with a simple scan of that code, users can experience a virtual drive. The QR code is uniquely-designed for specific packages, but once inside the virtual realm, a 3D map and customized sounds await. 
There are four customized sounds: Road Tripping, Rhythm Kicking, Smooth Gliding, and City Vibing. Accompanying each of the unique sounds is a distinctive colorway. The musical moods shift chords as the Volkswagen Taos glides through various hotspots on the map.     
Inch by inch, better yet, mile by mile, the technology creates unique shareable drives. Additionally, monitoring the virtual experience allows customers to have three months of Amazon Music Unlimited at no additional cost. The three-month subscription to Amazon Music Unlimited provides users with 75 million songs, commercial-free, and the highest streaming quality. Along with Amazon Music Unlimited, users also receive access to millions of podcast shows.   
Over a million Amazon customers will receive a box throughout the country, and anyone too eager to wait can preview it here. 
"Driving and music have always been a perfect pairing. This innovative, virtual introduction to our all-new Taos gives potential buyers a unique, music-driven way to experience another moment of joy from this SUV." -Senior Vice President of Volkswagen Brand Marketing, Kimberley Gardiner. 
The 2022 Volkswagen Taos delivers everything Volkswagen stands for with signature driving dynamics and premium quality in a nice-sized package. The Volkswagen driving experience is on the brink of something much more magnificent.  
Shopping around can be tiresome, especially when you can't find that car rolling around in your dreams. Fortunately, Sunrise Volkswagen of Fort Pierce is more than capable of making it difficult for you to separate your dreams from reality.  
Whether you're in the market for that new leather smell or that pristine certified pre-owned, Sunrise Volkswagen provides that hometown customer service you're sure to love. 
In addition, Volkswagen is known for its German high-tech engineering and its reasonable prices.
 So if you're facing some financial dilemmas, please feel free to take advantage of our finance center. 
Our staff is committed to your satisfaction.
We look forward to serving you!