Turns Out it Was a Great 2021 for Volkswagen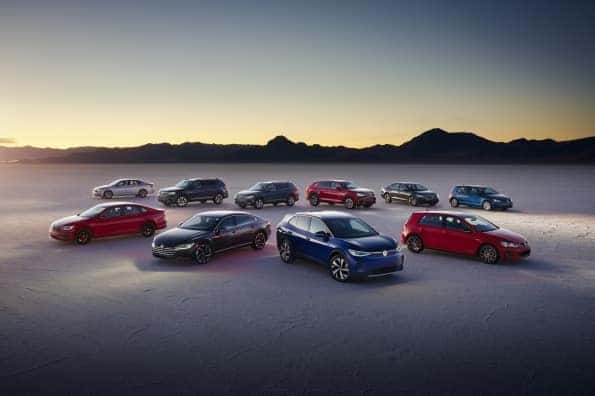 Volkswagen has had its fair share of ups and downs throughout the years in the U.S. market, but congratulations are in order for the brand as it just had its best American sales year in nearly a decade. Since 2013 to be exact. More than 75 percent of vehicles sold by Volkswagen in the U.S. were the brand's SUVs – the Taos, Atlas, Tiguan, and Atlas Cross Sport. Additionally, sales for the brand's Arteon sedan were up 53 percent year-over-year, one of the biggest jumps for the German automaker. 
Volkswagen also has plenty of cause to celebrate given its ID.4 model has been nothing short of a success since its launch. Sales for the all-new electric model totaled 16,742 units for the year. If it hadn't been for the pesky microconductor issue, Volkswagen claims it could've sold four-times as many ID.4 models. Scott Keogh, President and CEO of Volkswagen of America, Inc. said "What VW dealers are saying is that this is the most excitement they've had on the shop floor since 1998 when we brought the Beetle back." Given that the new Beetle was all the rage back then, it's safe to say that the ID.4 is also a big deal for the automaker. 
Volkswagen is still eligible for the full $7,500 EV tax credit, unlike longtime EV purveyor Tesla that's already run out of credits. 
Volkswagen ID.4
The all-new Volkswagen ID.4 was built on Volkswagen's MEB electric vehicle architecture and competes in the compact SUV segment, currently the world's largest market segment. At launch in the U.S. market, the 2022 ID.4 is powered by an 82kWh battery paired with a rear-mounted AC permanent-magnet synchronous motor, generating 201 horsepower and 229 lb-ft of torque. Volkswagen will launch an ID.4 with a second motor later this year (2022), focused on more performance and all-wheel-drive. 
The 2022 Volkswagen ID.4 comes in four different trims, with the entry-level Pro trim so equipped that it includes features typically found on higher-tier, more valuable trims. Pricing for the 2022 ID.4 starts at $39,995 (plus destination fee), while the ID.4 AWD coming later this year starts at $43,675 (plus destination fee). Both of these MSRPs are before a potential Federal tax credit of up to $7,500. ID.4 Pro rear-wheel-drive models offer an EPA-estimated 260 miles of range, while the rest of the lineup has an EPA-estimated 250 miles of range. 
Charging the ID.4
Powering an electric vehicle costs significantly less than filling up the tank every week. For example, charging the ID.4 at home costs an average of about $58 (per month) less than driving a new vehicle the same distance. Over the course of five years, that amounts to about $3,500 in fuel savings. Additionally, the Volkswagen ID.4 comes standard with three years of unlimited public DC fast charging on the Electrify America Network — free of charge. The network offers 487 stations with more than 2,000 fast chargers across the U.S., with more scheduled to arrive soon. 
Build and reserve your very own Volkswagen ID.4 at Sunrise Volkswagen of Fort Pierce today! Follow Volkswagen of Fort Pierce on social media to stay up to date with the latest VW news and offers.
Photo Source/Copyright: Volkswagen