The Volkswagen ID.4 Goes on a 6,700-mile Cross-Country Road Trip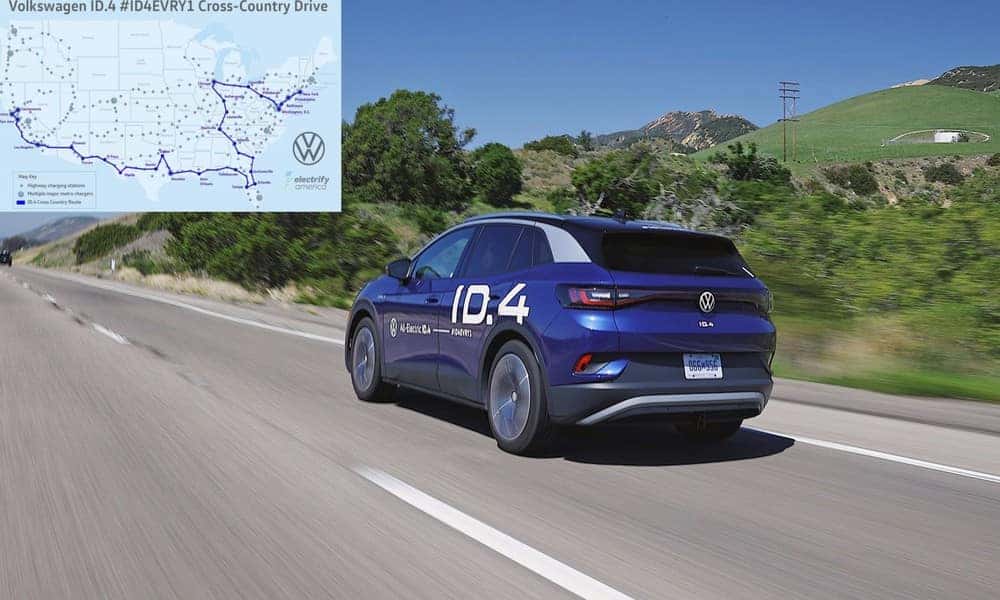 Embarking on a journey to the other side of the country can be very exciting as the feeling of a family road trip or a cross-country trek evokes a sense of adventure and discovery. For consumers looking to get their hands on a capable electric vehicle, the Volkswagen ID.4 proves to be a reliable and efficient EV with great endurance. Very recently, Dustin Krause, Director of E-mobility at VW, and Tod Xelowski, Customer Experience Manager of E-mobility at VW, partnered together on a cross-country project to prove that the 2021 Volkswagen ID.4 can be the perfect EV for long-distance travel. They did this by traveling 6,700 miles from New York to Sacramento on the ID.4 EV through the course of 18 days.          
News and Fast Facts
The 2021 VW ID.4 Crossover completed a cross-country road trip from New York to Sacramento using

Electrify America

charging

stations.

There are several routes for cross-country travel that have EA stations near highways.

Electrify America

currently has over 2,400 DC fast chargers at its charging stations
The Road Trip
The Volkswagen duo planned the 6,700-mile road trip that took place along the southern portion of the United States and completed it in 18 days. The cross-country journey consisted of 32 stops at Electrify America charging stations to recharge the ID.4's battery. According to Volkswagen, new buyers of the ID.4 EV Crossover will get complementary free access at Electrify America charging stations for three years at no additional cost. The goal of the trip was to demonstrate the vast coverage of EV charging stations throughout the U.S. in an effort to display to consumers that traveling in an EV can be enjoyable and hassle-free. 
Electrify America Stations
Electrify America LLC is the largest public DC fast-charging network in the United States. This large network allows millions of Americans to charge their battery-powered vehicles while traveling across the country. The company has plans to continue developing its network of charging stations by expanding to 29 additional metropolitan areas with the goal of being in 45 states. Drivers can find Electrify America charging stations near major highways and cities with close proximity to shopping areas, banking centers, and restaurants. 
Each Electrify America charging station has between three and ten individual DC fast chargers in order to accommodate multiple vehicles. The EV chargers are specially designed for speeds up to 150kW and 350kW to reduce the charging time of an idle vehicle. For added convenience, there is also a mobile application consumers can download that will grant access to all Electrify America charging locations in the U.S. There is also a virtual payment function and a live monitoring feature that checks the status of a charging session. According to the company, it plans on developing 800 more charging stations by the end of 2021 that will result in a total of 3,500 DC fast chargers on the road.
2021 Volkswagen ID.4
The EPA recently certified the official driving range of the VW ID.4 EV at 260 miles of range per charge. This grants a range advantage over the Tesla Model Y's base range of 244 miles, putting the ID.4 on a higher playing field in the EV segment. Volkswagen also claims that the ID.4's battery can be charged in 38 minutes, taking it from a 5 percent charge to an 80 percent charge. For more information on the Volkswagen ID.4 EV Crossover, you can visit the VW Official Website to reserve your vehicle and by selecting Sunrise Volkswagen of Fort Pierce as your home dealership for delivery. You can also fill out our contact form for any questions you may have regarding the ordering process or any other Volkswagen vehicle that interests you. We currently have amazing deals and discounts on our SUV inventory you don't want to miss!
Image Source: Volkswagen