Microsoft & Volkswagen Partner to Create New Self-Driving Car Software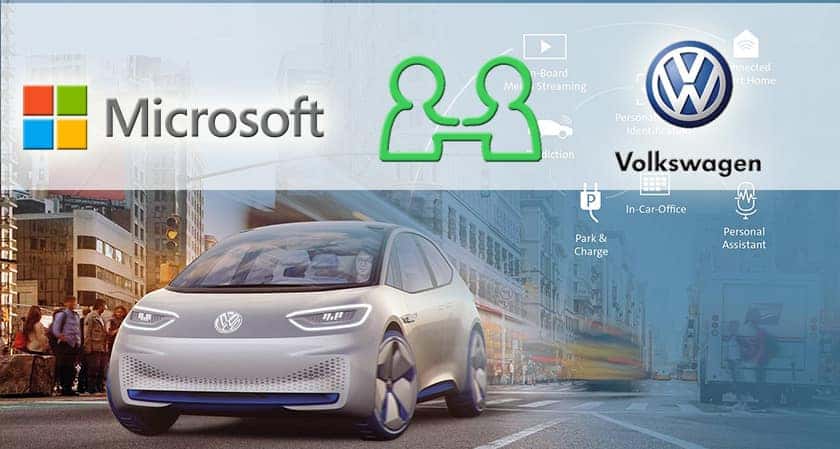 Photo credit: Volkswagen/Microsoft
The Volkswagen Group and Microsoft have taken a major step in the future of self-driving car software. The Group's Car.Software Organization announced a partnership with Microsoft in efforts to create a dedicated cloud-based platform intended for future car systems. The profound partnership between the two companies will lay the foundation by combining the experience that Volkswagen has as an automaker and the global cloud expertise that Microsoft will bring to the table. What would this collaboration look like? Allow us to break it all down.
Volkswagen will establish a new automotive cloud development office in the United States and Microsoft will support its initial development. Microsoft will provide hands-on support including resources to help accelerate hiring such as consulting services and Human Resources. This is what the two sides had to say about their partnership. 
More Details About the Microsoft and Volkswagen Partnership
"As we transform Volkswagen Group into a digital mobility provider, we are looking to continuously increase the efficiency of our software development. We are building the Automated Driving Platform with Microsoft to simplify our developers' work through one scalable and data-based engineering environment. By combining our comprehensive expertise in the development of connected driving solutions with Microsoft's cloud and software engineering know-how, we will accelerate the delivery of safe and comfortable mobility services," said Dirk Hilgenberg, CEO of the Car.Software Organisation.
What to expect in the collaboration
Entering into a strategic partnership Volkswagen and Microsoft will deeply collaborate to accelerate Volkswagen's digital transformation. Volkswagen chooses Microsoft's Azure platform as the foundation for its Automotive Cloud and Connect services for its fleet. Microsoft Azure, is a cloud computing service created for building, testing, deploying, managing applications, and services through Microsoft-managed data centers. Plans for the future will have all in-car services for the Volkswagen brand be built on the Azure cloud platform and services, dramatically streamlining the technical landscape. The Volkswagen Group is set to invest around 30 billion in digitalization by 2025, and increase the proportion of in-house development of software in the car from 10% to 60%. Further strengthening its capabilities both companies will build AD and ADAS solutions faster with one development platform.        
"This is the next evolution of our foundational work with the Volkswagen Group to enhance their transformation as a software-driven mobility provider. The power of Microsoft Azure and its computer, data, and AI capabilities will enable Volkswagen to deliver secure and reliable automated driving solutions to their customers faster." " said Scott Guthrie, executive vice president, Cloud + AI at Microsoft.
Drive New Volkswagen With Our Help
At Sunrise Volkswagen of Fort Pierce, we're more than excited to help our customers and we have the right staff to make it happen. Searching for a new option to buy or lease? Take a look at our new vehicle inventory or our quality pre-owned vehicles. Interested in checking them out today?
We can help sell your current vehicle or bring it back to life like new with an online service appointment to our service center. Allow our professional techs to get started on all repairs or maintenance work.
We're here to help with any financial needs, questions, or suggestions to help make paying for a vehicle easier. Stop by today and see what we can do for you right now.