Here's What We Know About the 2022 Volkswagen Tiguan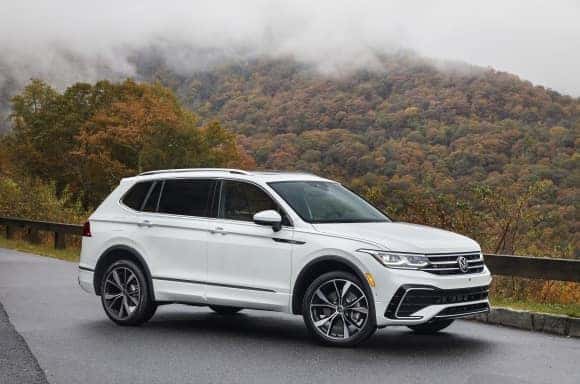 The 2022 Volkswagen Tiguan Allspace is peeking out from around the debut corner, and before the Allspace can compel the streets, the 'Das Auto' automaker released a few details. Besides the new facelift, Volkswagen revealed the SUV's variations, prices, and specifications. 
To the average consumer, it's easy to mistake the Volkswagen Tiguan for the Tiguan Allspace. However, the Tiguan is merely a five-seater, and the Tiguan Allspace holds a capacity for seven passengers. Additionally, the Volkswagen Allspace ignites to life in a different factory and operates on a separate development cycle than the Tiguan. 
While there are contrasts between the Volkswagen Tiguan Allspace and Tiguan, the innovative tandem also harbors many resemblances. The Tiguan and the Tiguan Allspace sport a similar range. The standard Tiguan includes the 110TSI, the 132 TSI, and the 162TSI options. The diesel 147TDI R-Line completes the engine lineup.   
The Volkswagen Tiguan Allspace contends with some pretty heavy foes in the mid-size segment. Nonetheless, exceptional ingenuity is the catalyst for every vehicle carrying the Volkswagen name. Plus, there are merely a handful of SUVs providing seven seats in the mid-size segment. Those lackluster seven-seaters include the Mitsubishi Outlander, Honda CR-V, and Nissan X-Trail. 
Regrettably, there is no seven-seater Tiguan Allspace R this time around. Yet pricing will commence at $44,590* and stretches as far as $61,690* for the 147TDI R-Line (these prices do not include taxes nor the destination fee). Moreover, the Volkswagen Tiguan Allspace will break the internet by May of 2022. 
Volkswagen Tiguan Allspace Pricing 
110TSI Life $44,590*

132TSI Life $48,590*

162TSI Elegance $56,990*

147TDI Elegance $58,490*

162TSI R-Line $60,190*

147TDI R-Line $61,690*
*PRICING EXCLUDES TAX AND DESTINATION FEES 
Engine Power
The standard Tiguan Allspace's power generates from the 110TSI Life with the 1.4-liter turbocharged four-cylinder motor. The turbocharged four-cylinder renders 148 HP and 185 pound-ft of torque. Then there's the 132TSI Life, generating power via its 2.0-liter turbocharged four-cylinder engine. The four-cylinder engine produces 177-HP and 236 pound-ft of torque. Next, there's the 162TSI Elegance, with a more potently powerful 2.0-liter four-cylinder engine yielding 258-HP. Then the 147TDI Elegance offers a 2.0-liter four-cylinder turbo-diesel engine that yields 197-HP and 295 pound-ft of torque. Finally, the 132TSI, 162TSI, and 147TDI variations bear a mated wet dual-clutch transmission and Volkswagen's 4Motion all-wheel-drive (AWD) system. 
Arriving Safely 
The Volkswagen Tiguan Allspace attained a five-star safety rating from the ANCAP in 2016. In addition, the Allspace received a 96 percent rating for adult occupant protection, an 80 percent rating for child occupant protection, and a 68 percent rating for its safety assist. 
Standard Safety Features: 
Front and rear parking sensors

Blind-spot monitoring

Rear cross-traffic alert

Driver fatigue monitoring

Adaptive lane guidance

Adaptive cruise control

Autonomous emergency braking with pedestrian detection

Lane-keeping assist

Reversing camera

Semi-autonomous parking assist
Exterior Paint
Volkswagen hasn't disclosed its exterior colors officially, but here's what we expect to see in May (2022). 
Pyrite Silver

Platinum Gray

Atlantic Blue

Deep Black Pearl 

King's Red 
You Almost Forgot Your Volkswagen Tiguan at Sunrise Volkswagen! 
Whether you're in the market for that new leather smell or that pristine certified pre-owned, Sunrise Volkswagen provides that hometown customer service you're sure to love. 
Volkswagen is known for its German high-tech engineering and its reasonable prices. So if you're facing some financial dilemmas, please feel free to take advantage of our finance center. 
The greatest family road trips stories began with a Volkswagen Tiguan. So don't let your most profound memories pass you by, get your all-new 2022 Volkswagen Tiguan at Sunrise Volkswagen. 
Our staff is committed to your satisfaction.
We look forward to serving you!