First Shipment of Volkswagen Taos Departs Port of Veracruz on the Way to the U.S.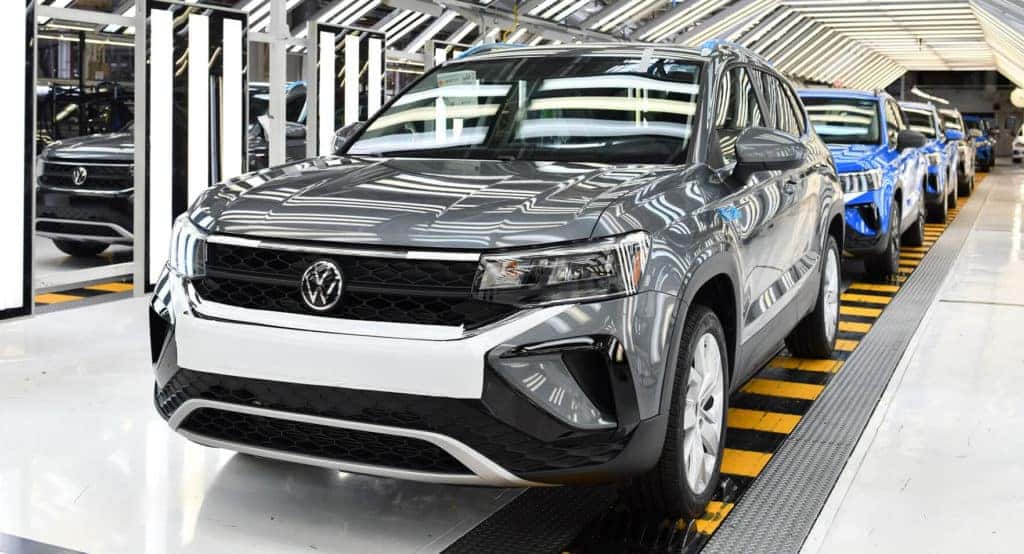 The first units of the 2022 Volkswagen Taos have recently been exported from the Port of Veracruz, Mexico on the way to multiple destinations in the United States. Volkswagen de México is in charge of transporting the new Taos models to key ports for the American market, which will then make their way to point-of-sale locations such as dealerships and showrooms. The new vehicles were shipped via a Mediterranean Highway Vessel that is owned by Volkswagen Group and that is part of its bigger fleet of vehicle carriers. Volkswagen de México is confident the new 2022 Taos will sell considerably well in the U.S. given its starting base price of about $24,000 (plus destination fee). A great price point for a compact SUV, making it a very competitive offering among other SUVs on the market. 
Exporting the Taos
Initial production of the Volkswagen Taos started in October 2020 originally meant for sale in the Mexican market. But very recently in February 2021, Volkswagen de México announced that it will export a certain portion of new 2022 Taos SUVs to external markets like the U.S. to increase sales and reach a larger demographic of prospective buyers. With more products being sold in other markets, in addition to the expansion of its transportation routes, Volkswagen de México is in a perfect position to be an effective exporter of vehicles.
The 2022 Volkswagen Taos
The Volkswagen Taos gets its name from Taos, New Mexico, which is the name of a small town in the northern desert region. For the 2021 calendar year and for the foreseeable future, Volkswagen is confident the Taos will be a popular choice among families and first-time car buyers that will send dozens of its competitors back to the drawing board. The 2022 Taos is also the smallest SUV offering right under the VW Tiguan.  
Specifications and Performance
All 2022 Taos will come equipped with a 158hp turbocharged 1.5 L I-4 engine, FWD, and paired to an eight-speed automatic transmission. For added capability, AWD is optional on all three trims levels (S, SE, SEL) and it is upgraded to a seven-speed dual-clutch automatic transmission. The top-tier SEL trim has an MSRP of $32,685 (plus destination fee) and an optional panoramic sunroof. The lower S and SE trims still offer plenty of value as they come standard with VW's driver-assistance package known as IQ.Drive.       
The Taos also offers plenty of luxurious features such as leatherette upholstery, ambient lighting, eight-way power driver's seat functionality, dual-zone climate control, a heated steering wheel, in addition to heated and ventilated front seats. Buyers will also be impressed with the Taos' high-tech infotainment system that comes equipped with Wi-Fi hotspot functionality. The touchscreen will come standard in a 6.5-inch display and an 8-inch version as an option. Convenience features include built-in navigation, an eight-speaker stereo system, and SiriusXM satellite radio. According to Volkswagen, the 2022 Taos will go on sale at U.S. dealerships starting in June 2021.      
For more information on the 2022 Volkswagen Taos, stay connected with us at Sunrise Volkswagen of Fort Pierce for ordering information and delivery. You can also fill out our contact form for any questions or inquiries you may have about any other Volkswagen vehicle that interests you. We have great deals on our current  SUV inventory you don't want to miss! 
Image Source: Volkswagen