Atlas Cross Sport GT Concept takes Sporty Design to a Whole New Level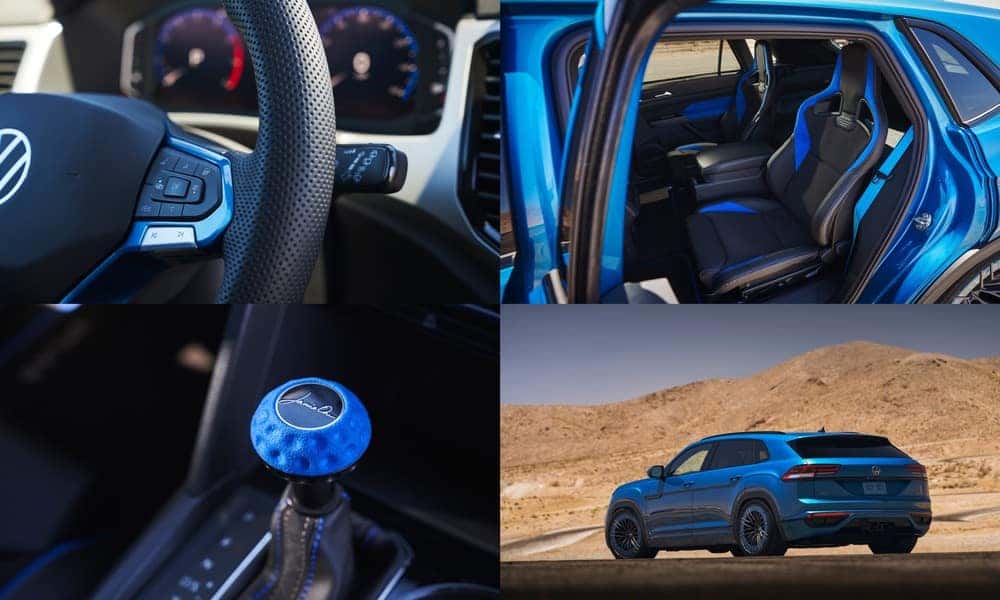 Volkswagen unveils one of its latest projects in the form of the Atlas Cross Sport GT Concept that combines several styling updates. Some of the highlights of the performance SUV concept include a modified 2.0 L TSI® engine, a lower suspension, and custom wheels with blue inserts. According to the CEO of Volkswagen Group of America, Scott Keogh, the concept shows that it is possible to build SUVs that can appeal to performance-oriented consumers rather than just the traditional family-oriented buyers. Enthusiast and professional car builder, Jamie Orr, is part of the VW GT Concept project and takes the lead in modifying and styling the vehicle. The Atlas Cross Sport GT Concept features a four-seat configuration and an eye-catching blue color that Volkswagen calls "Eisvogelblau" and is hand-painted by the Chattanooga production team.
The Atlas Cross Sport GT Concept
Volkswagen's GT Concept uses a 2021 Atlas Cross Sport SEL Premium R-Line as a starting point. After several months of modifications, the vehicle reaches Concept status, a project that shows what is to come later in the future for Volkswagen SUVs. The concept takes sporty design to a whole new level that features various high-performance elements such as 22-inch ABT Sport HR Aerowheels, Yokohama Advan-branded tires, a sport-tuned suspension, coil-overs, and TAROX eight-piston front brakes. Black exterior accents replace the previous chrome accents giving the SUV GT Concept a more aggressive appearance.
Performance and Powertrain
Powering the SUV GT Concept is an EA888 2.0 L TSI engine currently in the Volkswagen Golf R with an IS38 Turbo and an extra front-mounted radiator. It produces a little over 300hp and features a seven-speed DSG® automatic transmission with Volkswagen's signature 4Motion® all-wheel-drive system.
Unique Customization Options
The exterior blue color makes its way to the vehicle's interior with blue-trimmed RECARO Sportster CS seats, a custom blue gear shift knob, and safety belts. There are also blue accents on the steering wheel and blue floor mats to create a cohesive look. Volkswagen also states that all the interior materials are non-animal-based and instead feature synthetic and other alternative materials. The Atlas Cross Sport GT Concept will also be available for viewing at unique VW events across the U.S. later in the year.
Receive all the latest news from Volkswagen by staying connected with us at Sunrise Volkswagen of Fort Pierce. If you are interested in driving home a new Volkswagen SUV, don't hesitate to contact us. Our friendly staff is ready to assist you in finding the ideal vehicle for you and your family. If you are looking for another vehicle, let us know, and we can order the vehicle for you according to your exact specifications. You can also visit us and take a tour of our on-site inventory of sedans and SUVs we have on offer at everyday low prices.
Image Source: Volkswagen