A Volkswagen SUV Comparison: 2022 Atlas vs 2022 Tiguan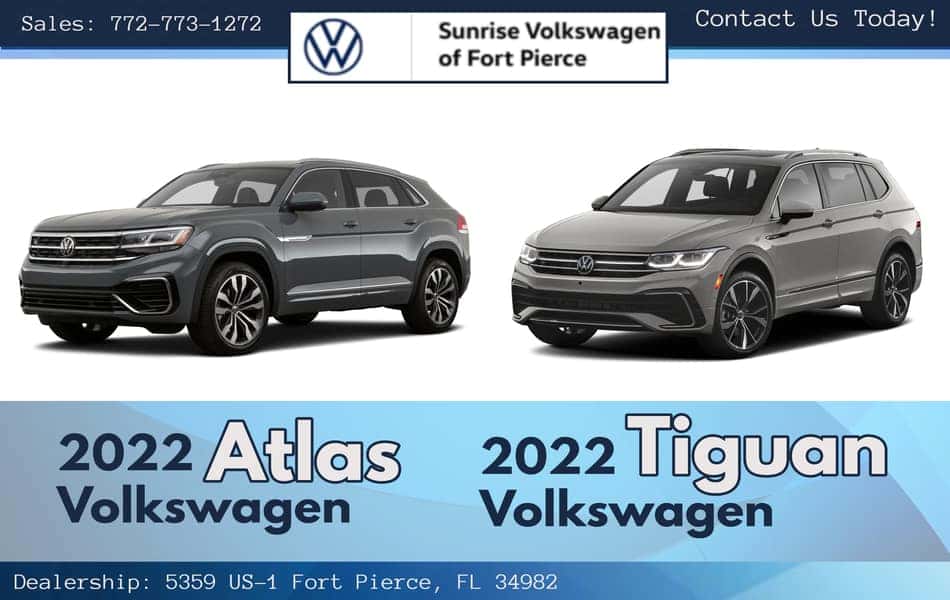 For the 2022 model year, both the Volkswagen Atlas and Tiguan SUVs receive their fair share of styling updates and in terms of technology, they are better capable of meeting the needs of the modern consumer. Although both SUVs may appear similar in various aspects, there are some notable differences worth mentioning. Even though they are both offered in a three-row configuration, the Atlas is categorized as a mid-size SUV while the Tiguan falls into the compact SUV category. We hope to educate consumers who are thinking of driving home a brand new 2022 Volkswagen SUV with relevant information on both models to ensure prospective buyers have a more informed purchasing decision. Here's how both SUVs compare…
2022 Volkswagen Atlas
The new 2022 Volkswagen Atlas is a very versatile mid-size SUV that is available in various seating configurations and is ideal for families that are constantly traveling on the road with their kids. With its starting base price of $33,475 (plus destination fee), it is a great value for first-time SUV buyers and returning customers.  For the six-passenger configuration, there are two captain's chairs in the second row, but consumers can upgrade to the seven-seater and opt for a bench instead. Its recent styling updates make the Atlas appear more upright and sturdy. It's also 3-inches longer than the outgoing model which means there is more interior space for passengers in terms of legroom and cargo space.    
Families can drive with confidence on the road because of Volkswagen's driver and passenger safety features that include a forward-collision warning system, automatic emergency braking, blind-spot monitoring, and rear cross-traffic alert (available on all trims). In terms of engine choices, there are two engine options available for the 2022 Atlas that includes a 2.0 L turbocharged 4-cylinder that produces 235hp and a larger 3.6 L V6 that makes 276hp. For fuel economy ratings, the 2022 Atlas gets a combined 22mpg, but with the bigger engine, that number is expected to decrease. The Atlas is also available in both front-wheel and all-wheel-drive configurations.
2022 Volkswagen Tiguan
Volkswagen's take on a three-row compact SUV is the 2022 Tiguan, which has been updated to keep the model afresh. Its shorter length means that cargo space is limited and back-row passengers may be in for a bit of a pinch. However, it's still a great alternative for families that desire a more agile and more affordable SUV. The 2022 Tiguan is $7,480 less than a base model Atlas, making its $25,995 price tag very attractive to budget-oriented buyers. (Please keep in mind that vehicle pricing is subject to change to accommodate destination fees and optional equipment).    
A lower base price means that some features are left out, the 2022 Tiguan is not available in all-wheel drive, and there is only one engine option, while the Atlas has two. It is powered by a 2.0 L 4-cylinder engine that produces 184hp via an eight-speed automatic transmission. Fuel economy numbers are slightly better than the Atlas, with a combined fuel economy rating of 26mpg which makes it go the extra mile.
Which SUV Should You Buy?
Our recommendation for budget buyers is the 2022 Volkswagen Tiguan which is substantially more affordable than the higher-priced Atlas. By purchasing a new Tiguan SUV, drivers will experience better handling and cost savings in comparison to the Atlas. However, the 2022 Atlas is also a great purchase for buyers that can spend a little more and that desire a more spacious SUV. Visit us at  Sunrise Volkswagen of Fort Pierce, and let us assist you in finding the perfect Volkswagen SUV for you and your family. Take a look at our on-site inventory of SUVs at affordable everyday prices! If you are looking for a specific trim, color, or engine option, let us know by filling out our contact form and we'll provide you with information on vehicle availability and custom ordering options.
Image Source: Volkswagen