A Guide To Charging Your ID.4 EV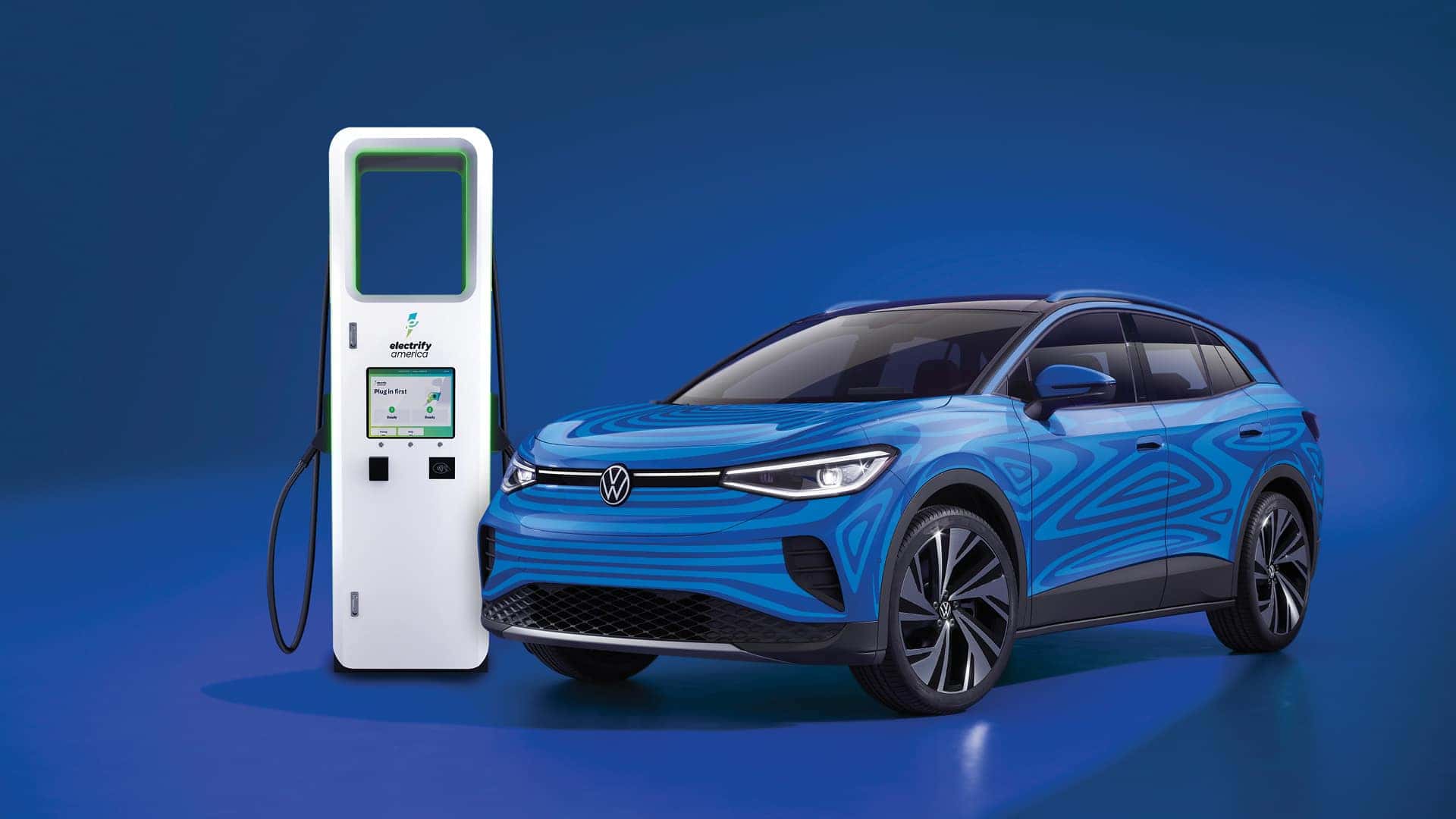 Fast-charging public stations are rapidly being developed all around the United States in shopping centers, malls, grocery store plazas, and near highways making it easy and convenient for EV owners to charge their vehicles almost anywhere. Owning an EV like the Volkswagen ID.4 crossover, for example, means no more trips to the gas station and for some daily commuters, this is good news. No more long lines at the pump, no need to worry about gas spills, or paying at the counter. 
Driving an all-electric vehicle has its perks, such as instant acceleration, zero-CO2 emissions, and being able to charge it from home. As more and more automakers start offering electric cars, educating buyers on how to charge their vehicles at public charging stations and at home becomes more essential.    
Using
Electrify America
Charging Stations
Most EVs already on the road use Electrify America charging stations, the nation's largest open DC fast-charging network with more than 600 stations already established and more than 2,600 individual DC fast chargers. By the end of 2021, Electrify America plans on having 800 charging stations and 3,500 DC fast chargers available for the public. Downloading the mobile app gives drivers the ability to find local charging stations, learn about vehicle battery status, payment options, and time per session.   
Using At-Home Chargers
Most new EV owners have questions about how to charge an electric vehicle at home, how much it costs and how long it takes rather than using a public station. There are available wall chargers for purchase from online retailers specializing in EV accessories and equipment that consumers find useful. The products range from wall chargers, extension cables, adapters, and mounts, ranging from as low as $200 to as high as $5,000 with more high-tech chargers selling over $10,000.        
At-home chargers offer convenience for easy overnight charging that leaves battery-powered vehicles fully charged the next day for a daily commute or road trip. EV owners choose to buy at-home chargers for their faster charging speed and convenience. The process is not complicated either, because charging an electric car is like charging a mobile phone, simply park the vehicle next to the charger, open the latch, and plug it in.
Hiring a Professional Installer
At-home EV chargers require professional installation from a certified technician that knows how to connect to the electrical framework of the house. The installation process consists of mounting the charge point on an exterior wall or inside the garage and connecting it safely to the home's power supply. An installation takes anywhere from 1 to 3 hours to complete depending on the type of charger and the complexity of the installation. By booking an installation appointment with the car dealership or other service provider, first-time EV owners find it easy and hassle-free to install an EV charger. The professional installer also discusses with homeowners about monthly electricity costs and other expenses.       
Be a part of the EV revolution today and build and reserve your 2021 Volkswagen ID.4 and by selecting Sunrise Volkswagen of Fort Pierce as your home dealership for delivery. You can also submit our contact form for any questions you may have regarding the ordering process. Our friendly staff can also give you an on-site SUV inventory for amazing deals!
Image Source: Volkswagen