2022 Volkswagen ID.4 and 2022 Kia Niro Comparison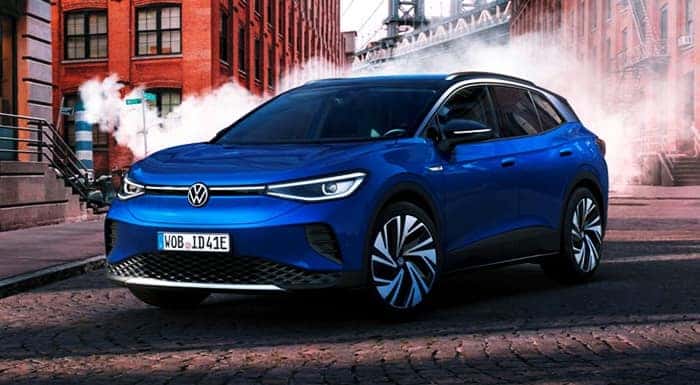 The 2022 Volkswagen ID.4 and Kia Niro EV are two astounding electric vehicles in the SUV segment. The Kia Niro carries a range of 239 miles, but its steep pricing doesn't equate to its lackluster interior. While the Volkswagen ID.4 is a bundle of comfort and practicality, boasting a range of 250-miles. Although the ID.4's weight isn't the lightest within the segment, the SUV holds a 2,700-pound towing capacity and impeccable standard safety features. Here's how the 2022 Volkswagen ID.4 and 2022 Kia Niro fare against each other.       
2022 Volkswagen ID.4 
Electric vehicles continue to grow in popularity every day that passes, and Volkswagen is anything but behind on the growing trend. The 2022 ID.4 is the first of Volkswagen's EVs to reach the States. The base model comes equipped with a rear-wheel drive and a rear-mounted electric motor generating 201 horsepower providing the ID.4 with 250 miles of range. The all-wheel-drive variation contains motors in both axles and generates 295 horsepower and 230 miles.   
Acceleration is gentle versus a more energetic jolt, which is due in no small part to the Volkswagen's weight, even though the Sport is a little more athletic. The actual point of emphasis for the crossover lies within comfort. Insulated from the outside, the ID.4 retains a tranquil cabin. When properly equipped, the ID.4 can tow up to 2,700 pounds. 
Inside the ID.4, the crossover is minimal but not where capacity is concerned. As a result, the SUV holds ample space for four and 33 cubic feet behind the rear, expanding to 64 cubic feet with the seats folded.  
Standard features for Volkswagen ID.4:
Heated Seats 

Rain-sensing wipers

Wireless Apple CarPlay/Android Auto 

10-inch touchscreen
Driver-Assist and Safety Features include: 
Forward-collision warning 

Adaptive cruise control 

Rear cross-traffic alert 
On top of the $7,500 federal tax credit (when applicable), ID.4 drivers receive three years of unlimited charging at Electrify America fast chargers. Don't take these chargers lightly, as the battery capacity reaches 80% in 40 minutes. 
2022 Kia Niro EV
The 2022 Kia Niro is available in three options: hybrid, plug-in hybrid, and EV. For a compact SUV, the Niro travels up to 240 miles of range. In addition, the compact SUV holds plenty of space for its passengers and cargo. The Niro has an excellent low-end torque which makes for a reasonably swift SUV, but with the extra weight from the batteries, the Niro EV doesn't hold much pep in its step compared to its counterparts. Moreover, all Niro EVs attain front-wheel drive only. 
Standard features for the Niro include:
Remote start 

Automatic climate control 

Heated front seats 

Combination SynTex upholstery 

60/40 split-folding rear seats 

Wireless charging 

10.25-inch screen W/ navigation 

Standard Harman/Kardon audio system 
A look inside, and the 2022 Niro EV is comfortable, but the materials fall short of practical for a design fit for a plain Jane. Passenger room is decent in the rear, offering 53 cubic feet of cargo space with all seats folded. The Premium trim adds a sunroof, faux leather, and ventilated front seats.   
The 2022 Volkswagen ID.4 or the Kia Niro EV? 
The 2022 Volkswagen ID.4 carries more versatility than the Kia Niro EV. The ID.4's not dripping in luxury, but its interior is more extravagant, in addition to the optional all-wheel-drive powertrain. The Volkswagen ID.4 is an outstanding choice for an SUV that provides tranquility and a sophisticated cabin equipped with the appeal and practicality of an SUV.    
Shopping around can be tiresome, especially when you can't find that car rolling around in your dreams. Fortunately, Sunrise Volkswagen of Fort Pierce is more than capable of making it difficult for you to separate your dreams from reality.  
Whether you're in the market for that new leather smell or that pristine certified pre-owned, Sunrise Volkswagen provides that hometown customer service you're sure to love. 
In addition, Volkswagen is known for its German high-tech engineering and its reasonable prices.
So if you're facing some financial dilemmas, please feel free to take advantage of our finance center. 
Our staff is committed to your satisfaction.
We look forward to serving you!